KidsOutAndAbout reviews Dockside Market Cakes - A perfect dessert for Halloween or any holiday
by Debra Ross
What can you serve at a Halloween party that is kid-friendly enough to be finger food and elegant enough to impress the other parents,and also won't break the bank?
Our quest took us to the Dockside Market catalog, where we found the ideal bundt cake combo for Halloween: The Sunrise Orange Cake and the Chocolate Chocolate Chip Cake. Mellow orange, and dark brown: a combination that works for both a sophisticated party AND a kids after-trick-or-treat gathering. (If you're like my family, we combine both...while the dads take the kids around the neighborhood for candy, the moms sit around and drink wine and sample elegant hors d'oevres, snacks, and dessert. And then everyone comes back inside and we all relax and continue the party together in a family atmosphere.)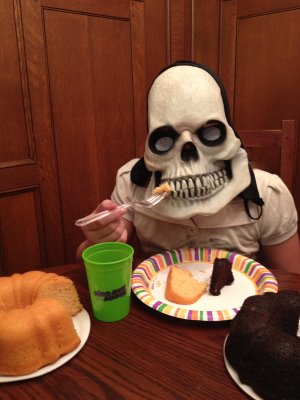 The Sunrise Orange Cake and the Chocolate Chocolate Chip Cake are each $19.95 (they can be purchased together), about what you'd pay for such a cake at a nicer grocery store. The difference is that Dockside Market cakes are HEAVENLY! (Or maybe for Halloween we should say devilishly good.) They are not too crumbly (so a piece can be held between the fingers in a napkin), and rich enough that one small slice perfectly satisfies--so one cake serves at least a dozen people in a party setting--but not so rich that it sends you scrambling for a glass of milk to balance it.
We sampled these Dockside Market cakes at our house; our test subjects were some colleagues, some kids, a husband, and a skeleton who popped out of our closet. We all raved! I asked everyone to search high and low for a way to improve the products, but no one had a single criticism! The cakes even made the skeleton smile!
Dockside Market bills itself as "a taste of the Florida Keys," I'm assuming because its main featured product is its Key Lime Cake, and because they are based in Key Largo, FL. To me, that cake and others such as their Cabana Banana Nut Cake and the Island Rum Cake sound like summer. The Sunrise Orange Cake might be fine for summer, too, but together it with the Chocolate Chocolate Chip Cake definitely spell FALL to me! (Not that I would be averse to trying a Key Lime Cake in the fall, mind you.)

The only danger with these cakes: If you serve them at a Halloween party, the word will spread quickly amongst the kids (and skeletons), and they may forsake their recently-acquired candy treasures in favor of muscling in on your desert. We suggest procuring your share before they get home from the big candy quest.
---
Costs: $19.95/cake. Shipping is $9.95 for one cake, $12.95 for two cakes. The shipping cost-per-cake diminishes the more you purchase.
---
© 2013, KidsOutAndAbout.com