Finding Peace of Mind with Jiobit Child Location Tracker

By Meg Brunson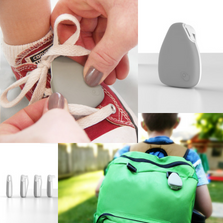 I've always been more of a "free-range" parent when it comes to how I raise my kids. That certainly does not mean that I don't worry about them. I do! But I believe they are capable and smart, and I love that we live in a very supportive community that is always looking out for each other's kids.  I am also a "control freak" and I like to know what is happening all of the time. It may seem contradictory to be both free-range and a control-freak... but I make it work, and Jiobit makes it easier.
Tech startup Jiobit has built the world's smallest and longest-lasting location tracker for kids, giving modern parents (like me!) much needed peace of mind when it comes to our children's safety. The jiobit is tiny - it fits in the palm of your hand - and lightweight. It is able to be carried on a beltloop, in a pocket, on a shoe, or in other similar locations and it communicates in real time with an app installed on your smartphone!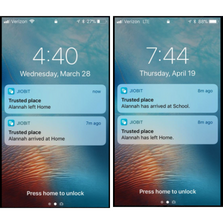 During playtime, there are many houses our kids hop around to, visiting friends and playing games. The Jiobit allows us to give them the freedom to check in less often, because we can easily see where they are at any given time. I love that on the app you could set boundaries as to what areas are safe zones for your child - and what areas your child is not allowed to be. It saddens me to admit that there is one household in our neighborhood where my daughter is not allowed. We decided it's not a safe environment for her. Now, she knows this... and she's a smart and obedient child, but we know that no child is perfect, so I love that IF she were to approach that home, we'd get an alert and would be able to monitor her location to ensure she's just passing by the home, and not stopping to socialize for any amount of time. It's a really nice feature, allowing us to promote independence in our kids while maintaining peace of mind.
The app also allows us to track her coming and going from school. Just the other day, the bus was over 20 minutes late, and a simple glimse at the app told me they were still safely at school. While it did not tell me WHY they were still at school (the bus was late arriving from a previous drop-off), I knew the bus wasn't stuck on the side of the road somewhere!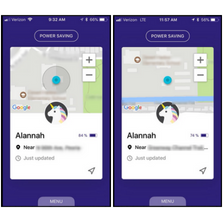 I love that the Jiobit is durable - it's survived weeks on my daughter's sneaker! - and that the battery lasts up to a week. The tracking capabilities work amazingly well - I was able to sign in various times throughout the school day to see where she was at school - to the right, you'll see 2 images, one shows her in her classroom, and one outside on the playground - I just thought that was SO cool! Turns out they use their own proprietary and patented technology called Progressive Beaconing to track in every location (over 150 countries) - even indoors - no matter the distance. 
Other key features include superior tamper-proof data security and encryption that is COPPA compliant, geofencing and mobile geofencing capabilities, the ability to add family and babysitters so you know who your child is with, and a live mode setting that allows parents to track their child in real time. 
Jiobit is a really cool piece of technology that is perfect for kids of all ages, and is helpful if you're a free-range control-freak (like me!), or if you'd just like some peace of mind while your child is playing outside, walking to school, or on a family trip to a busy place.
Jiobit is available to order now. For more information about Jiobit please visit www.jiobit.com

---
© 2018 Meg Brunson
Thanks to Jiobit for sponsoring this review. All opinions expressed are my own. See more pictures and details on Facebook and Instagram!
Meg is a mommy blogger, Facebook marketer, and much more. She is a mom to four kids who live in Peoria, AZ and is the local Editor of KidsOutAndAbout Phoenix - helping parents and caregivers find free and affordable things to do with kids, out and about in Arizona! As a former Facebook employee, Meg remains a Facebook addict and handles KidsOutAndAbout.com's Social Media Marketing in addition to providing freelance services for other small businesses on how to best leverage Facebook as a part of their marketing strategy. Meg also hosts the FamilyPreneur Podcast, a podcast for parent entrepreneurs raising entrepreneurial children. Learn more about Meg at MegBrunson.com!